WHAT'S NEW!
First Battery Excavators In New England
10/01/19
Finally!.... No more cords!... What type of power? How long of cord?.... etc, etc.
Battery Powered Mini Excavator - Hammers & Slab Grab Attachments Available.
Call for pricing or to reserve a unit -- Combines well with our battery buggies, Sherpas
& Battery Wacker Compactors too...
WATCH FOR LARGER BATTERY EXCAVATORS COMING SOON!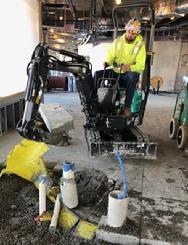 9vxB Battery Excavator Working Fairfield CT
8hr Run Time, No Noise, Same Power!
Work Inside/Work Outside-Same Power
Charging / Off to Pull out some Slabs
Trench Beak w/Battery Mini-LaborSaver!